Story of Normal Allard and Indian Princess Pan Dai
General Allard, Princess Pan Dai and their children (Photo courtesy of Henry Provost Allard's Facebook page)
It is said that no one in the world is recognized as a billionaire unless their boat is moored in the French city of Saint Tropez (also known as San Thopa in French).
No house in this city is worth less than a billion rupees, so everyone here is a billionaire. But the first billionaire here was a French general, Allard, who was Maharaja Ranjit Singh's special forces general. His palace with 20 rooms and 20 suites, which he named "Pan Day Mahal" (Pan Dei Palais) after his Indian wife, is now one of the best hotels in town where people want to spend a night. So that they can feel the touch of this eternal love story that grows between France and Punjab. Paintings of General Allard's Anarkali house still hang on the walls.
What is the story of General Allard and Pan Dai?
How did Allard come to Punjab and join Ranjit Singh's army? This story is very interesting that there is romance, excitement and the whole world of migration.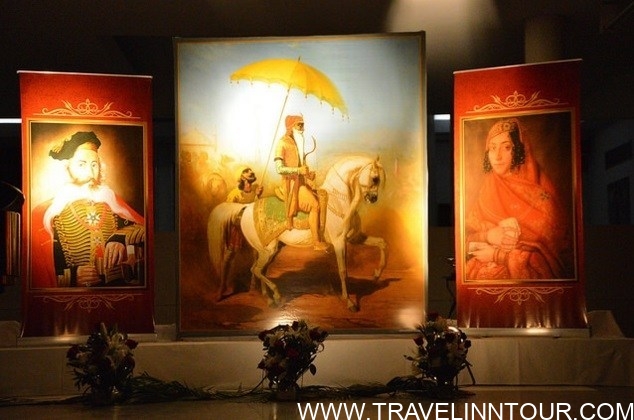 Photo courtesy of Henry Provost Allard's Facebook page
General Allard (Jean-François Allard) was born in 1785 in St. Tropez, then a small village. In 1803, at the age of 18, he joined Napoleon's army, where he was honored by Napoleon for his God-given skills. When Napoleon was defeated and captured at the Battle of Waterloo in 1815, Napoleon's close associates, including Allard, were imprisoned for being Napoleon's ideological allies. When he was released three years later due to unfavorable conditions in France, he moved to Italy with his uncle, who sent him to work with the Iranian Crown Prince Abbas Mirza.
Allard stayed in the Crown's special forces for some time, but having in the eyes of Great Britain Abbas Mirza apologized to Allard for the threat posed by the British opposition. He then turned to Kabul, where one of Napoleon's General Ventura was there.
Allard had learned Persian while in Iran, and when he came to Lahore with General Ventura in March 1822, the two were given access to the court through Ranjit Singh's foreign minister and special adviser Faqir Azizuddin. The Maharajah sensed the threat of the British Army on his borders at the time, and he saw it as a blessing to establish the Punjabi Army on European lines. On the other hand, he feared that they might be spies and made no decision, but ordered that they should not leave Lahore.
After Ranjit Singh observed and considered her for three months, he hired her. Her salary was kept at Rs. 2500 per month. General Ventura was made general of the infantry and General Allard was made general of the cavalry. When Ranjit Singh joined the army, he swore to all non-Indians that in the event of an attack by a European power they would remain loyal to Punjab and that without the permission of the court, he would not conform to any European government, they will not eat beef, they will not smoke, and if they want to get married they will marry an Indian woman.
General Allard trained and modernized 40,000 Punjabi troops. His training was so strict that many soldiers fled. He formed a special platoon of commands and another Gurkha platoon, which was praised by the British General Edward as the best army in Asia. He demonstrated his skills in Peshawar and Dera Jat in 1825 and then against the jihad movement of Syed Ahmed Barelvi between 1827 and 1830.
Hari Singh Nalwa, the chief of the Khalsa Army, was killed in the attack by the Afghan King Dost Mohammad on Jamrud, after which General Allard ensured the safety of Peshawar. From the Himalayas to Multan they stood like a leaden wall against the British army. The British Army could not invade Punjab while he was alive. He made the Punjabi Army uniform in the style of Napoleon's army. Maharaja Ranjit Singh trusted General Allard to such an extent that he gave General Allard the command of his six thousand strong commando force. General Allard was not accountable to anyone but the Maharajah.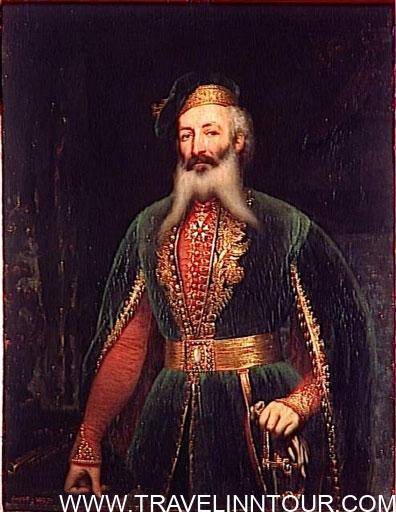 Jean Francois Allard
The closeness between the Maharaja and General Allard became a relationship when the Maharaja General Allard married Banu Pandey, the 12-year-old daughter of his cousin Raja Menga Ram from Chamba. The wedding, which took place in March 1826, was indeed a continuation of a royal tradition that turned friendship into kinship in the royal families of the time. Banu Pandey, also known as Pan Dai in French, was born in 1814 and married at the age of 12.
Over the next eight years, they had seven children with General Allard. Pan Dai was a princess. When she came to General Allard's house with the entire Eastern cultural tradition, this Western general's heart was so moved that he even wrote poetry in Persian with love for Pan Dai.
From Allard's first marriage he had a daughter, Mary Charlotte, whom he loved very much and whom he invited to India. Marie Charlotte was in love with a young man in France, but on the other side was a father she hadn't seen in eight years. It is said that Charlotte met a nun before coming to India who told her that you will not find love, death is waiting for you in India. That's what happened. She came to India but died suddenly on April 5, 1827.
Deeply shocked by her sudden death, General Allard built a magnificent mausoleum on his daughter's tomb like the Mughal princesses did on the 48-channel site and planted a magnificent garden still known in Lahore as the Kadi Bagh. Allard was shocked by his daughter's sudden death and realized that if anything happened to him, it would be his young wife hours with him (The custom among Hindus was that when a person died, his wife was also cremated with his coffin and this ritual was called sati.)So he sent his wife and children to France in 1834. Created a migration program. General Allard asked Maharaja Ranjit Singh to allow him to raise his children as Christians in France.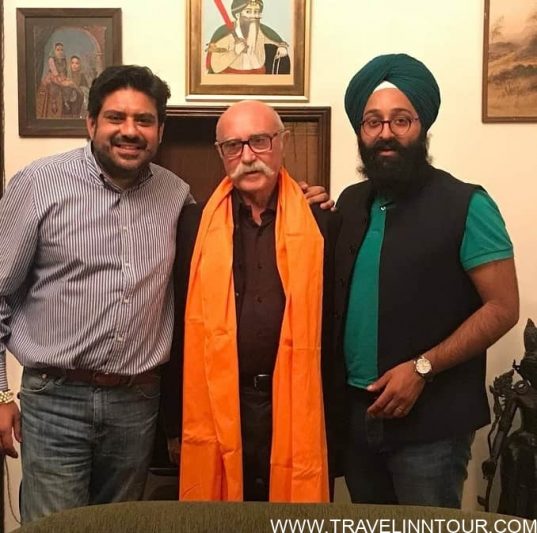 Henry Provost Allard great-grandson of General Allard (Photo courtesy of Henry Provost Allard's Facebook page)
The maharajah disagreed and feared Allard would not return, but Allard promised that he would not only return but also bring modern weapons from France and the aid of the French king against the British, to which the maharajah replied: Allowed to go .
When General Allard visited France, he was received as a royal guest. In France, Allard and Pan Dai wedding ceremonies were performed religiously in the church. Allard built a magnificent palace for the Pan-Dai in France that not only kept an eye on Indian architecture but also hung masterpieces of Indian art. It was the most magnificent palace in St. Tropez at the time. General Allard said goodbye to France in December 1835 and never saw his family again.
In 1838 he was sent to Peshawar to help General Otibel, where he died of a heart attack on January 23, 1839. Since the Maharajah himself was ill, he did not receive this sad news. His body was brought to Lahore with full military honors. He was given an honor guard in every military canton from Peshawar to Lahore. When his body reached Lahore, soldiers from Shahdara to Anarkali were stationed who opened fire and paid tribute to their brave general. He was buried in Kadi Bagh, where his two daughters were buried.
In France, however, Pan Dai had a special status as the wife of an Indian princess and General Allard and was respected in the local aristocracy. She says she wasn't convinced when she heard of General Allard's death. She went to church to calm down, then converted to Christianity and joined the Roman Catholic denomination.
The King and Queen of France addressed her as their daughter in a special ceremony attended by General Allard's friend General Ventura. Pan Dai's youngest daughter, Phil, died on July 25, 1845, who was ten years old. Due to the tragic death of her husband and daughter, Pan Daika's heart was no longer in the palace, where General Allard's memory was engraved on every stone. She moved to another house on the beach where she spent the rest of her life remembering General Allard.
It is said that she sits on the beach every evening and asks the oncoming waves if anyone has seen General Allard's ship from India at sea. If there was no answer, she would come back in the evening with tears and spend the whole night counting the stars in the open windows overlooking the sea. She could have returned to India if she wanted, but according to Allard's wishes, she raised her children in a Christian way. Their children were married into the families of the French elite. The troubled soul of India finally flew on January 13, 1884, but those who visited her tomb feel the fear of love that spread from Lahore to France.
The French government has installed statues of Maharaja Ranjit Singh, General Allard and Pan Dai in the city. The historical painting in the Pan Dai Hotel also fascinates tourists with General Allard and his family at his home in Anar Kali. The fifth generation of the Allard family now lives in St. Tropez. His great-grandson Henry Provost Allard was also the city's deputy mayor. He is the author of three French books, one on General Allard.
This timeless love story was born in Lahore, but nobody here knows what the story of 'Kadi Bagh' is. The tomb of Anar Kili, which is now the Punjab Civil Secretariat, was erected for the French General Lord and his wife Pan Dai
The French are selling this Lahore-born love story to billionaires around the world, and the people of Pakistan don't even know this story belongs to Lahore.
Save it on Pinterest