Dubai Parks And Resorts | Riverland Dubai, Motiongate, Legoland Dubai
Riverland Dubai
The greatest fun country in the Middle East are the Dubai Parks and Resorts in the United Arab Emirates on Sheikh Zayed Road. The Dubai Parks and Resorts are spread over an area of ​​25 million square meters. It consisted of more than a hundred rides, three theme parks and a water park. These are called Motiongate Dubai, Bollywood Parks Dubai, Legoland Dubai and Legoland Water Park. Dubai's parks and resorts also include Riverland Dubai, a shopping and dining destination, Lapita Hotel Dubai, and a family-themed Polynesian resort.
The project for the construction of parks and resorts in Dubai was announced in 2012 and started in 2014. The construction company signed a contract to add Hollywood and Bollywood features to the park with DreamWorks Animation, Columbia Pictures and Merlin Entertainment. The idea of ​​bringing a beloved topic was appreciated by higher authorities and visitors. Dubai Parks and Resorts approved the construction of the fifth Motiongate Dubai themed zone in 2015. Lionsgate company started building six flags in Dubai to add great beauty to Dubai parks and resorts.
Dubai Parks And Resorts Tickets (No Affiliate Link)
TWO PARK ANNUAL PASS – – MOTIONGATE Dubai and LEGOLAND Dubai
495 AED Per person including taxes (free under 3 years)
TWO PARK PASS – – MOTIONGATE Dubai and LEGOLAND Dubai
295 AED Per person including taxes (free under 3 years)
A PARK PASS – – LEGOLAND DUBAI
275 AED Per person including taxes (free under 3 years)
A PARK PASS – – MOTIONGATE DUBAI
275 AED Per person including taxes (free under 3 years)
The idea of ​​a theme for parks and resorts has become a trademark and internationally known. In 2016, the parks and resorts of Dubai broadcast their official theme song All the Wonders of the Universe by award winner Alan Menken.
Experience distinctive animated superheroes that make for amazing roller coasters and adventures, including the Smurfs, Godzilla and The Hunger Games. Visitor attractions on a real set in Studio Central will also watch life.
Riverland Dubai
The gateway to Dubai Parks and Resorts is Riverland Dubai. Take an adventurous journey back in time and experience the street atmosphere, cinemas and kitchens from four different eras that influenced the environment, the 17th century French Village, 1950s America, 1930s British Raj and early 19th century Europe Century.
Hotel autograph
Welcome to a world of exhilarating adventure, a destination where you can discover, grow, and connect with your family. The Dubai Parks and Resorts consisted of three first-class theme parks and a water park. It is also home to Riverland Dubai, Lapita, a rare path to limitless fun. In addition to the free Q-Fast for Motiongate and Bollywood, all guests of the Lapita Hotel & Resort have unlimited access to several parks for the duration of their stay.
Incredible delights in Dubai's best theme parks: Bollywood Parks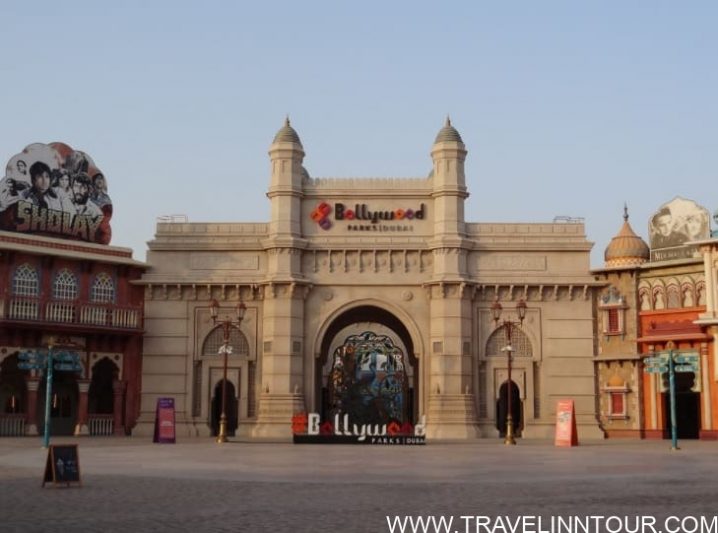 Bollywood Park
It's a surprise to know that the only theme park in the world is promoting the legendary Indian film industry in the United Arab Emirates. Dubai not in Mumbai. In Bollywood Parks you become part of the magical world of Bollywood films. Realize your Bollywood dreams with impressive exhibits, exciting walks, multimedia displays and exciting music concerts in five themed areas. Experience the region's first Broadway-style Bollywood musical, Jaan-E-Jigar, at the magnificent Raajmahal Theater.
But even if you've never seen Dabangg, Bahubali or Pk, you can always enjoy these and other attractions on a Bollywood blockbuster basis. This family-friendly DPR park with its abundance of action-packed 3D and 4D motion rides has a budget of around half a day.
The graphics and special effects are fantastic, but don't expect too much in storylines. In terms of live entertainment, the parks and resorts in Dubai offer such as the explosive stunt show, extravagant productions of song and dance, and a glamorous musical extravaganza at the palatial Raajmahal Theater (separate tickets required).
Favorite all-rounder for children: Legoland Dubai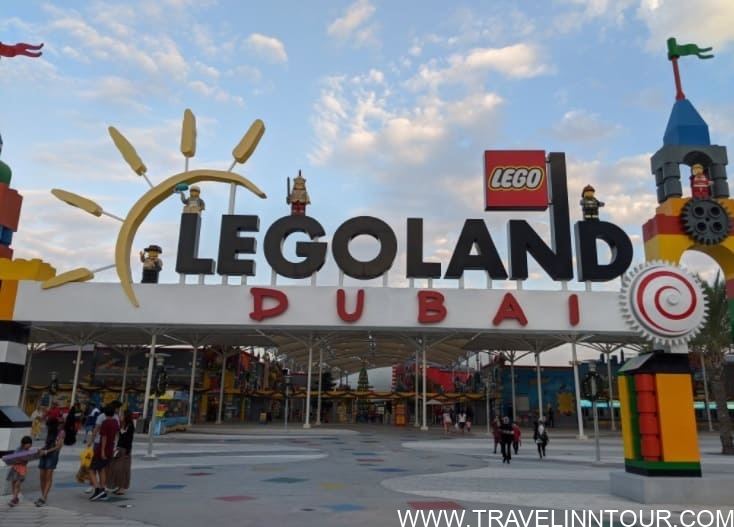 Legoland Dubai
On the new foray through the Legoland dynasty, there are 40 rides and amenities, which are divided into six themed areas: Warehouse, Lego City, Fantasy, Realms, Adventure and Miniland. These are specifically aimed at exciting young people. You won't find any white knuckle rides at this DPR resort. But soft like the adorable dragon that sails through a medieval castle or the submarine escape that features sharks and coral close-ups. Visit Legoland for the perfect family experience for children between the ages of two and twelve. Enjoy more than forty Lego exhibits and adventures at Legoland Waterpark before setting off to splash, explore, and even create your own Lego raft.
There are also several interactive items, particularly in Lego City, where kids can get a driver's license, pilot an airplane, and put out a fire. Meanwhile, the ancients are particularly fascinated by Miniland, where more than 20 million Lego pieces recreate famous attractions like the Burj Khalifa and regional wonders like Petra and the Babylonian Hanging Gardens. It takes at least a full day to explore the park, two if you visit the nearby water park.
Favorite water park for children: Legoland Water Park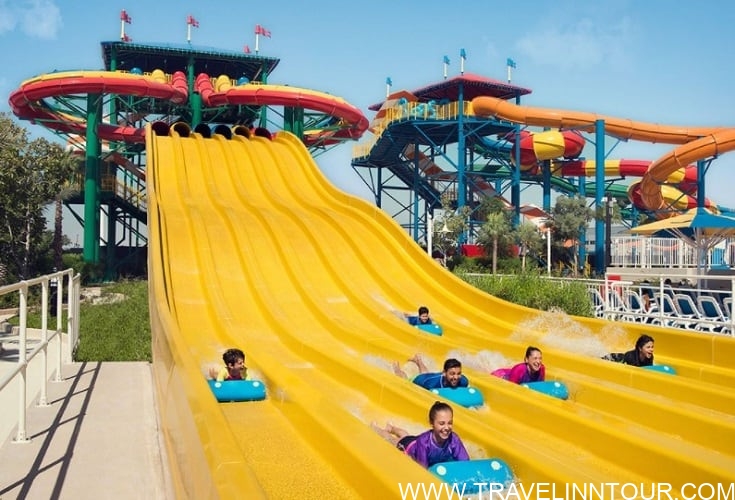 LEGOLAND water park
The ultimate destination in the Arab world for parents with children aged two to twelve is the water park. Legoland Dubai and Legoland Water Park are hands-on activities that allow families to engage in themed adventures through haunting swings, water slides, models, and building experiences. Legoland Water Park is smaller and gentler than any of Dubai's older liquid playgrounds with its 20 rafts, tubes and body slides. A wicked water park and lazy river excursion negotiated in a Lego raft you built but still quickly turns into a full day of fun. Twin Chasers, a side-by-side ride where you can challenge your father or mother, and the Splash Out slide with an 18 m gradient are some of the top hits.
Perfect choice for movie fans: Dubai's Motiongate
Dubai's Motiongate is called Hollywood in the desert. It has more than 30 rides and attractions and live shows that are influenced by classic and latest Hollywood films. There are three zones named after the film studios in the park. At the entry point of Dubai's Motiongate is a fairly low-key region from Columbia Pictures where you can take on the character of a Ghostbuster, board the Green Hornet Fairground Ride, and visit the creepy Hotel Transylvania. The center of the park is the DreamWorks indoor area with the most famous joyful character from Kang Fu Panda, Tarzan and How to Train Your Dragon.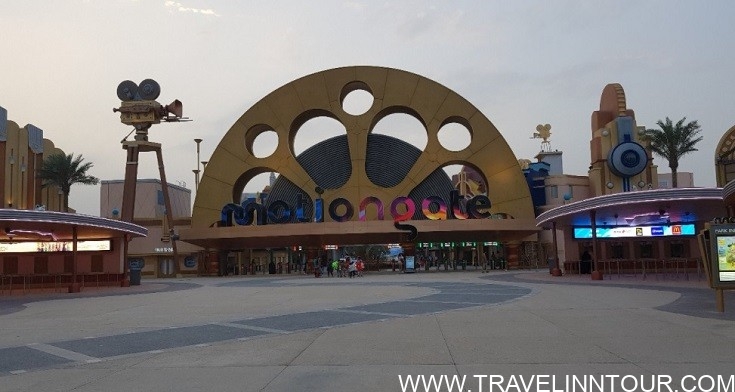 Dubai Motion Gate
The theme parks in Dubai are not cheap. There are numerous ways to solve the problem by buying tickets online, checking for freebies on the Dubai parks and resorts website, buying multi-day packages, or enjoying seasonal discounts (usually in summer, but beware of the heat!). Some hotels have park entry in their room rates. For example, if you book at the Lapita Hotel, you have unlimited access to all four DPR parks. While prices at Atlantis the Palm offer Aquaventure entry. Jumeirah Community Hotel guests (including Jumeirah Beach Hotel, Al Qasr Hotel, and Mina A Salam) have unlimited access to Wild Wadi Waterpark.
From this we can conclude that the mega-project of Dubai and Resorts offers you the best opportunity to make your free time unforgettable. These theme parks have gained worldwide fame. Here we've provided all the necessary information on facilities, the guide to buying tickets, and hundreds of fun activities for you to enjoy. So, must like this article and share it with your friends and family members who are planning to go on vacation enjoying world wonders.
Save it on Pinterest: