Customized Cell Studying Apps: Gauging Curiosity
Should You Use Mobile Learning To Train Remote Teams And Sales Reps?
What you are about to read is a fable. The company, AshCom, is fictional, but the mobile learning challenges faced by Kathryn, AshCom's CLO, and her team are real and commonly shared by learning teams in corporations, non-profits, associations, and education. It is our hope that you will be able to connect with the characters, their challenges, and the solutions they discover. We also invite you to read the first eBook in the series.
eBook Release
How L&D Leaders Are Using Custom Mobile Apps To Increase Performance And Revenue
Leverage mobile apps to boost employee performance and shore up organizational gaps!
Kathryn Contemplates
Kathryn, Chief Learning Officer of AshCom, sat quietly in her office. She breathed in deeply and then slowly exhaled. With her eyes closed, she reflected on the past six months. A small, contented smile crept across her face.
The previous months had been both challenging and rewarding for Kathryn. AshCom, a manufacturing company in Minneapolis, Minnesota, had completed its acquisition of Globex. The transition was not without bumps and bruises. Some were to be expected given that a company with 4,500 employees was absorbing the 2,500 team members from Globex.
Kathryn had been a part of some large learning teams in her former jobs. One previous employer had annual sales of over $30 billion and a large learning team that spread out across the globe. Kathryn often thought of the lessons she learned there and was grateful for them. When the opportunity arose for her to take the CLO role at AshCom five years earlier, she jumped at it. AshCom was a much smaller, family-owned company, and Kathryn liked the atmosphere. She was able to build a strong, bright, and reliable team. They worked hard, were committed to learning, and appreciated the many talents held by fellow team members.
Kathryn spent months working with her team, planning for a new training and development reality. Their objective: integrate two companies, two cultures, and two training systems. Much of the work focused on needs analysis. They completed a curriculum mapping process before they defined their learning objectives of Knowing, Doing, and Believing. They gained further insights into their learning audience and carefully considered how they would brand their learning and market it to their learners. Processes were put in place for gathering and reporting the required return on investment (ROI) information. They clarified their roles, scoped their projects, and started building digital learning assets that would achieve their company goals.

Custom Mobile Learning Apps: Tackling The Sales Challenge
It was too soon to offer a thorough evaluation of their progress, but the early signs were positive. The initial feedback from learners was encouraging. On top of that, the learning culture that Kathryn had hoped for was beginning to take shape.
One area of learning opportunity that remained largely untouched was sales. In AshCom's acquisition of Globex, the leadership team of AshCom decided to maintain status quo for sales learning amid so much change going on all at once.
The sales team, in the minds of the owners, was the lifeblood of AshCom's past success. They invested heavily in building a large and well-established sales team. Pre-acquisition, AshCom had 171 account executives. With the purchase of Globex, another 115 people would be joining the sales team. These 286 salespeople needed to average $12 million each to hit AshCom's goal of $3.6 billion in annual revenue. Little wonder they were considered the lifeblood.
The account executives felt the pressure. Many of them called it their "responsibility." They understood their role at AshCom. They were well compensated and incentivized. They also tended to get whatever resources they felt they needed to accomplish their individual and team goals. Keeping the sales team well supported was always front and center.
Ronda Gets The Green Light
Kathryn was not surprised to receive an email from Ronda, Vice-President of Sales, early one morning, asking for a meeting. Kathryn knew the status quo of sales would be short-lived. Judging from Ronda's email, it was clear that the owners and executive team were comfortable enough with the direction of the learning efforts to give Ronda the green light to begin talking about new learning opportunities for the sales team she led.
Ronda had a rare combination of skills and knowledge, which is why AshCom brought her aboard in the middle of the merger to lead their sales efforts. She was a mechanical engineer who started her career at a medical device manufacturer. Rumor was that she maintained a 4.0 GPA throughout college. Bright and personable, her boss recognized her innate sales skills, something she had not seen in herself. Soon, she was in a pre-sales position, working with both the sales and engineering teams, as she was comfortable with and could communicate well with both. Within two years, she was managing a sales team. Five years later, she was made Vice President of Sales, selling some of the finest medical devices in the world related to cardiac care.
The Ash family spared no expense in recruiting Ronda. After intense but friendly scrutiny from both sides, she accepted the job. Like Kathryn, Ronda looked forward to working in a smaller company that was family owned. She was aware of the possible acquisition before she began the interviewing process and felt exhilarated by the challenge.
She had only been with AshCom about eight months when she called the meeting with Kathryn. Kathryn had seen her around and had briefly spoken to her a couple of times. Managing their teams through the merger had left both leaders feeling like they were drinking from a firehose. But they knew this conversation was coming.
The Meeting
Kathryn and Ronda met in a large conference room with plenty of whiteboard space. After each expressed their appreciation for the other, Kathryn began.
"I assume our discussion will be around creating some new learning opportunities for our sales team," Kathryn said.
"Exactly. I've been waiting to talk to you about our sales training," Ronda said.
Kathryn felt an inner cringe after hearing the word "training," but she took the opportunity to kindly make an important point. "Well, yes. It might seem like I'm splitting hairs here, but even though it's called sales training, we like to think what we offer the sales team as more learning experiences than training.
After a thoughtful pause, Ronda said, "I'm not sure I completely understand the difference."
"Let me explain. Typical training is taught to a team member. Think back on the required compliance courses, like safety or harassment and discrimination, that you may have taken when you started at AshCom. The courses were presented and then HR checked it off the list when completed. But it doesn't mean that any real learning occurred."
"Understood," said Ronda. "So, in contrast, learning would be…"
Creating Learner-Centered Experiences
"Learning is focused on the learner and is more than a one-time experience. When we create learning experiences, we provide team members with engaging materials in the hopes that they will gain a deeper understanding. They can then apply the knowledge to different situations and solve various problems, not just correctly fill in the blank at the end of a course. Does that make sense?" Kathryn asked.
"I think so. Tell me about a possible learning experience."
"Well, as an example," Kathyrn began, "we might ask a learner to interview an expert salesperson in the company on a specific topic. Afterward, the learner would post a reflection on what they learned to an online discussion where others could make comments and ask questions. When that discussion is complete, we compile it and share as a list of best practices to refer to. It's engaging and can be applied directly at AshCom."
Things Get Interesting For The Sales Department
As Ronda smiled, Kathryn continued, "With that, I'd like to give you a little history of sales learning at AshCom, at least in the five years I've been here. Quite frankly, we've never done much. At first, it was kind of a 'if it isn't broke' situation. Then your predecessor left. Then the acquisition and the desire to keep the sales team rolling, giving you some time to get acclimated. Sounds like we are now where we need to be to do something interesting."
Ronda's smile grew as she said, "I like that a lot. Time to do something interesting." Kathryn returned the smile. This might be a lot of fun.
"I have several challenges," said Ronda. "Mind if I use the whiteboard?"
"Of course," said Kathryn. "It's always best if things are made visual."
The Circles
Ronda drew three large, unconnected circles. Over the top she wrote "Sales Systems." In the first circle, she wrote "AshCom Sales System and Software." In the second, she wrote "Globex Sales System and Software."
"Part of my challenge," said Ronda, "is that we have two sales systems that are quite different. We've been allowing the account executives to do what they've done in the past, but that isn't a good long-term solution."
In the third circle, Ronda wrote "My Sales System and Software."
She turned to face Kathryn and said, "All sales systems have commonalities, of course, but there are some significant differences between what AshCom does, what Globex did, and where I want us to go. Oh, and there are some software differences too that need to be ironed out. I need help sorting this out and getting us pointed in the right direction."
Kathryn took a moment and decided to lay out something she thought might be helpful.  "Ronda, I see your dilemma. When we think about our big learning objectives, we tend to put them in three buckets. Mind if I add something to the whiteboard?"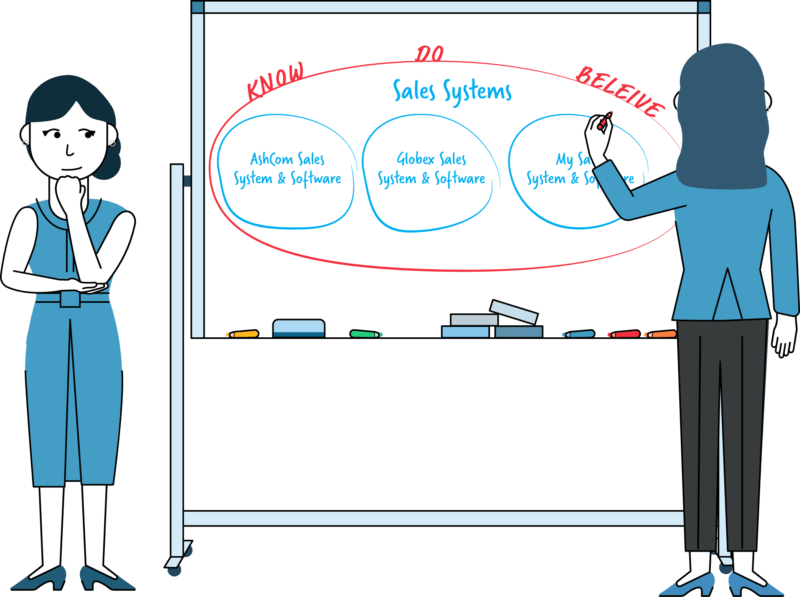 Know, Do, Believe
When Ronda nodded, Kathryn stood and wrote "Know, Do, Believe" in three circles next to the three circles Ronda had drawn.
"Our learning team often starts with these three," said Kathryn, "and we focus on the learning outcomes we want. Do we want people to know something, be able to do something, or believe in something after their learning experience? Sounds like you want the sales team to do all three."
Ronda stared at Kathryn's circles for several seconds and said, "Yes! That's it exactly. And that's what worried me a little. Some of our salespeople have been around a long time. I need them to learn and master a new system. I need them to be able to operate inside of it. And I need them to commit to it. Know. Do. Believe. Simple and elegant."
Kathryn laughed.  "I never considered the word 'elegant' to describe this, but I see how someone with the mind of an engineer would appreciate an elegant solution."
"But elegance won't be easy," replied Ronda. "My sales team is spread all over the U.S. and Canada. Some live here but most live in the territories they cover. Many of them have not even met each other face-to-face, especially those from Globex."
"One other thing," said Ronda. "Our account executives won't be spending much time in their home offices. I'm a big believer in our clients seeing our salespeople regularly. There will be a lot more road time for all of them."
Mobile Learning Enters The Picture
"Away from the office, out on the road…let me take a guess," said Kathryn. "You are thinking about mobile learning." Kathryn appreciated Ronda's preparation for this meeting and her sense of direction on where she wanted to go.
"I don't want to overstep my boundaries, and I respect your learning expertise and experience," said Ronda, "but I've done a little research and small bits of microlearning designed for mobile delivery that provides just-in-time content makes a lot of sense to me. Anytime. Anywhere. Any device. I read that in several places.  It was…," Ronda paused.
"Elegant," said Kathryn, completing her thought. "That makes sense to me.  Although you haven't met them, my learning team has great people on it. They know what they are doing. They are deeply committed to doing whatever it takes to give people great learning experiences. Let me get them together and see what we can come up with. Sales Learning. Mobile. Elegant. Got it."
Both left the conference room excited for where this conversation might lead.  Kathryn did not reveal that she and her learning team wanted to get deeper into mobile learning but had not yet had the chance with all the other tasks on their plates. Maybe this would be the opportunity to take their learning to another level, not just for the sales team but for all of AshCom's team members.
Conclusion
To read the rest of the chapters in this series on Mobile Learning and to see Kathryn and her team solve their challenges, please download the eBook How L&D Leaders Are Using Custom Mobile Apps To Increase Performance And Revenue. It can help you determine if custom mobile learning is the right approach for your organization and uncover tried-and-tested methods.